the lowering of your 2WD Astro/Safari can be achieved a couple of ways or in combination. I reccomend using Belltech or DJM products as I have heard lots of good things, I have not heard any possitive feedback on other brands.
FRONT
Drop spindles - usually a 2" drop, the new spindle lower's your ride height 2 inches and retains factory ride and feel.
Drop Coil Springs - available in 1, 2, or 3" drop. usually have increased spring rate to stiffen up the ride and give a sporty feel.
To go lower you can use the spindles and springs.
REAR
To lower the rear of your Astro/Safari it requires a flipkit. A flipkit makes it so your leaf springs go under your rear axle instead of over. It is usually adjustable by using different mounting holes in the rear spring shackles from 3" to 6" of drop. Any more than a 3" drop usually requires a "C notch" to the frame rail for extra axle clearance.
Flip kit instructions courtesy of DJM
http://www.djmsuspension.com/Instructio ... 027-97.pdf
C-notch pictures courtesy of SoCalliV8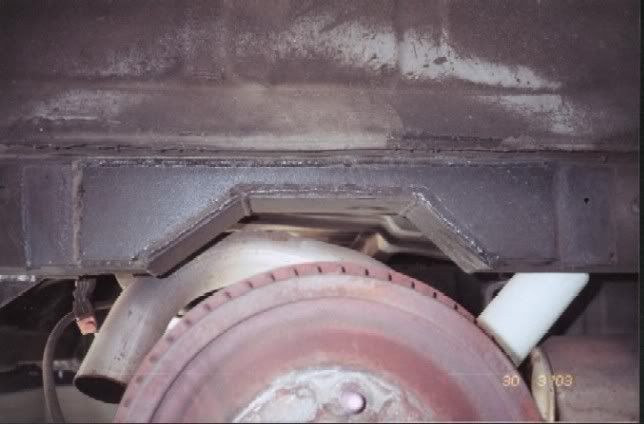 NOTE - there are two different style leaf springs on an Astro/Safari... The older style uses a 1 piece fiberglass leaf and the newer vans use a multi steel leaf spring... you have to order the correct flipkit for your springs