Well.... it's finally MY turn!!!
My "new" NP233C just arrived today!
The unit is from an 03 Blazer.
This will be my first time upgrade.
I confirmed 32-spline.
Unit weighs only 68lbs, and can easily be lifted or carried by one hand.
I unboxed it.. and confirmed the 4x4 selector operation and that everything turns.
I like the idea of the cable shifter bolted to the side of the seat.
I would like it below the seat facing forward.
My basic gasket/seal set arrived today as well ($12 from Amazon)
I am considering the Lokar S-7100 shifter-cable kit ($50 from Summit)
It looks like it has most of what I'll need.. I'll make or modify as needed.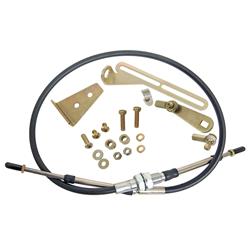 I desperately need the 4-Lo for some of the work I do, often towing a heavy lift to off-road job-site locations.
I'm excited about advancing to the next level and finally having a REAL 4x4 van!